Organization and Flexibility: Can you have one without the other?
I fully intend to write about the organized homeschool--and I have the notes to prove it, but God keeps sending me life-lessons that can't be ignored. Such as moving two households in one weekend--with three children ages four months, four years, and seven years. You might already imagine how flexibility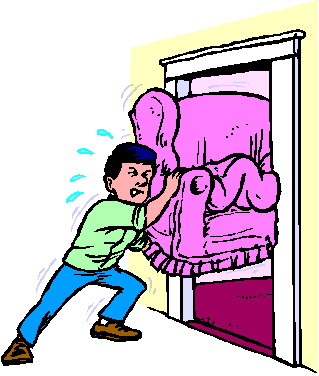 might figure into this.
Organization was attempted. There were lists, boxes were labeled with contents and the room to be delivered to, packing was finished (mostly) the day before (think wee hours of the morning) the loaders arrived. Food was planned ahead. We had dollies and carts and old blankets for cushioning. Helpers arrived at the designated times. We remembered step stools, toilet paper, and paper towels.
And the sabotage of organization begins
Four-month-old babies don't always nap as long as you think they will. The help of a four-year-old does not actually save time. They won't postpone a seven-year-old's last soccer game of the season just because it's held at an inconvenient time. And there's no accounting for traffic in Seattle even if you don't have to use a freeway.
Nothing, and I mean nothing, happened according to schedule. It took longer to finish the final packing than we anticipated so the helpers loading the moving van had to step over and around the helpers emptying the refrigerator and freezer. Which delayed the departure of said moving van, which delayed the arrival of the moving van, which delayed the unloading, which delayed...
We had the necessary tools to take apart beds and dismantle the desk and bookshelves--or we thought we did. Who knew the one missing Allen wrench would be the only one we needed?
But Chaos was averted because Organization plus Flexibility equals Sanity.
When a four-year-old is excited about finding a flower in her new backyard, you stop what you are doing and share the excitement. When the seven-year-old sounds out the name of his new street, you stop and listen. And when a four-month-old laughs or smiles or cries or needs her diaper changed, you stop what you are doing. We could have been short-tempered and impatient if the schedule was the most important thing. But it wasn't.
The schedule helped us know what to do next. The organization helped us communicate expectations and keep working despite the interruptions and delays. It helped things go more smoothly than without it, but what we thought we could accomplish in a day didn't happen. In fact the "day's" work morphed into two-and-a-half.
And all of that was fine because flexibility is a necessity whatever the goals or demands. It is when we become too rigid, too glued to our schedule, that we lose our focus of what is really important.
Don't confuse the immediate task with what is important
Organization provides the framework for reaching the important goal, but flexibility allows us to do so without losing our patience. Flexibility helps us retain our joy.
Because at the end of the day it doesn't matter that the pantry hasn't been unpacked, but it does matter if one of God's gifts in the shape of a baby's smile and laughter goes unnoticed, therefore, unaccepted.
Gracious heavenly Father, we bow before Your throne and praise You for who You are. We see Your organization throughout creation, but we see Your flexibility as well. As we homeschool, as we go about our day, help us keep focused on what is important. Let Your Spirit living within us direct our steps for Your glory. Because of Jesus we come before You.